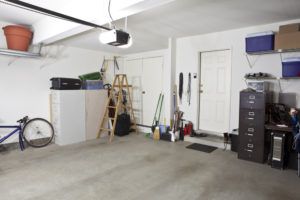 If you have been parking your car in the driveway or on the street because there is no room in your garage, then it might be time to clean your garage. Spring is the perfect season to spend time inside your garage to distinguish what to keep and what to throw away.
Guide To Spring Cleaning
As The Parker Doors & More family we'd like to share with you some tips on cleaning your garage this spring! So here we go; Spring Cleaning: Guide To Cleaning Your Garage Door.
Hazardous Chemicals
Most people store auto fluids, paints and pesticides inside the garage. This only becomes an issue if the containers become old. Old containers can crack causing leaks and fumes that can be hazardous if inhaled. They can also become fire hazards if gone unnoticed for too long. It is important to remove these items from your garage, especially if you have small children or pets. If you have a gas grill, it should be stored 10-15 feet away from your house, not in your garage. Most gas leaks you cannot see. It is better to be safe than sorry and keep the gas grill outside the garage.
Toys
If you have children, then you know that toys can be an issue. Most families store old toys in the garage so the little brothers and sisters who come after will have something to play with. By doing this, mom and dad can save money by passing down old toys instead of buying new toys. The only problem toys become outdated like anything else. So instead of reusing toys, you keep buying new toys and old toys keep stacking up in the garage. Donating your toys to organizations like The Goodwill is always a good option. But if you insist on keeping all your toys, than storing them in plastic bins will be ideal over wobbly cardboard boxes.
Gardening Tools
Ideally, you will like to store these tools on secured hooks attached to the walls throughout the garage. This allows them to be easy to access when needed and out of the way when not needed. Leaving garden tools on the floor and in corners can create clutter and hazards.
Ladders
It seems like it makes perfect sense to store a ladder against the wall. Ladders can easily tip over causing damage to your car, boat or other precious items you might have in the garage. Like gardening tools, you will like to store ladders on secured hooks, but if leaning it against the wall is your only option, make sure it is horizontal and not vertical.
Wire & Cords
Most men have a few boxes in the garage that is dedicated to old cable cords, extension cords, HDMI cords, chargers, adapters, remotes and cell phones. Or maybe you have old computers and laptops with tons of computer cords that are all outdated. There is a thin line between being prepared and being a pack rat. Take time to go through these old cords to determine what can still be used and what needs to be thrown away.
Smoke Detector
Check the batteries in your smoke detector inside your garage. We recommend you installing a smoke detector inside your garage if you do not have one already.
Leaking Car
Sometimes fluids leaking from cars can cause stains on the concrete floor inside the garage that are hard to remove. Try using cat litter or sawdust to soak up the spills. If the stain has already soaked to the floor, the us oven cleaner to try to clean the cement. Never put a rug, mat or tarp under the car to catch these leaking fluids. It is not safe and can be a fire hazard. After cleaning the garage floor, think about installing mats or rubber tiles. Not only will it make your garage look better, it will prolong the life of your concrete floors.
Go Green
Instead of buying containers for storage, you can create storage out of things you already have. Recycling old items and the definition of 'Going Green'! You can store nails, screws and other small items in old jars.
Old pegboards are also great for storage. Not only are they a great fit, but you can see everything! No need to guess what is inside when you can see everything laid out on the pegboard. If you really want to be organized, you can have a summary on each pegboard of what is inside making it easier when trying to find a missing item.
Milk crates also make great substitutes for cardboard boxes. They are lightweight, see-through and easy to organize. If you really want to be organized, you can have a summary on each pegboard of what is inside making it easier when trying to find a missing item.
If you have an old metal garbage cans lying around, they can be recycled. They are great for storing fertilizer, dog food and other items. Remember the following items when cleaning your garage:
24/7 Garage Door Repair Services
We provide emergency garage door services 24/7, 365 days a week. It doesn't matter the location or the time, our skilled technician will arrive at your home ready to repair your garage door. All of our driver have commercial grade trucks that are fully stocked. No need to wonder if we have the right part or not. We always come prepared for any situation.
Garage Door Installation Services
Parker Doors & More has been successfully installing garage doors since 1998. We are the #1 source for quality garage door design and installation in the Phoenix metropolitan area. Our experienced technicians will help you select the best garage door for you and your home. Every door we install comes with a Limited Lifetime Warranty.
Call The Garage Door Experts
For a prompt response and quality services, call Parker Door's & More today at (602) 870-9848! Or feel free to contact us online anytime you need to inquire of our services. We are open 24 hours a day. There is no job too big or too small. Call now!