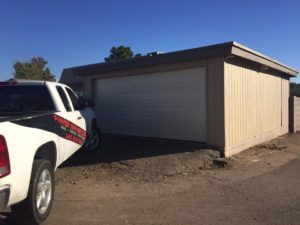 If you live in the Phoenix area, then you are living in a home that was built in the 1950's. Many of those homes come with a carport instead of a garage. Most of these homes have single or a double carport.
These carports are very useful as homeowners store their cars and other valuable possessions into these covered structures. But as households become bigger, homeowners are looking to add additional space for storage or recreational by adding a garage.
The average carport and/or garage size can range from 10' x 20' or 20' x 20'. Converting your carport can add an extra 200 to 400 square feet of living area.
Adding a garage to your home can be an expensive project, but you can save money if you already have a steel carport built into your home. If you are looking to expand and are planning on having a garage built, here are some ideas to help you add value to your home by converting your carport into a garage door.
Obtaining The Needed Permits
Before starting any construction project at home, do not bypass the permit process. If you decide to bypass obtaining the legal permits needed, selling your home in the future without the correct documents can cause problems. Make you (or your contractor) are familiar with the process.
Benefits Of Carport Conversions:
Residents in Arizona are all too familiar with stepping outside your home (in 115 degree weather) just to start your car. The benefits of a garage far outweigh the benefits of a carport. There is much more room for storage or can even be used as a living space. Converting your carport into a garage is a good investment, adding value to your property.
Expansion? Or Conversion?
If you are looking to store extra items or need a more secure option for storage, then you may need a utility carport. This is similar to having a shed in your backyard. These are very convenient and is a great way to store outdoor gear.
Many of the older homes in the Phoenix area on average have less square footage than newer homes in other parts of the valley. An easy way to get more square footage is by converting your carport into a garage.
If you need a space to store additional vehicles, expanding your carport or converting your carport into a garage is the way to go. You can store bikes, ATV's and other equipment. Add value to your garage by building windows, a walk-in door and/or storage shelves.
Since the carport already has a roof and has walls on two or three sides, this makes it easy and fairly inexpensive to remodel your carport as a den, extra bedroom or a garage.
Metal Workshop Conversion
If you love taking on household tasks yourself and are constantly starting projects around the house, then you might be in desperate need of a workshop. Instead of a garage, you might want to consider turning your carport into a workshop.
Enclose the carport on all four sides and install insulation into the walls. Adding a walk-in door for easy entrance and a large garage door for over-sized equipment will add value to the garage and your home.
If you rather have a 'open air' workshop, you can extend the carport, but not actually enclose it. By doing this, you will have a work area that is sheltered from precipitation, ,but can still be used as a loading/unloading area keeping materials safe and secure.
Metal Barn Conversion
If you live outside the city and have large animals, then you might be considering to fully or partially enclose your carport for your animals. You can store equipment, feed and care for your animals in this much larger created space. Windows and large doors can be an added bonus.
There are several options when it comes to converting your carport into a garage. Our goal is to meet the needs of our customers 100% of the time. We have several industry standard carport conversions you can choose from, or you can have a custom one built for you. If you are looking for ideas, give us a call now!
How Do I Convert My Carport Into A Garage?
Building a garage involves a little more than just throwing up some walls and adding concrete slabs. It may seem like a task that you can do yourself, but we always recommend that you hire a professional to ensure the job is done correctly.
The first step is to make sure you have permission to begin a construction project at your home. Whether it is the city, county or your homeowners association, make sure you have the right documents to begin work. As we mentioned earlier in the article, hiring a licensed and insured contractor who has experience with converting garages is our recommendation, but if you plan to do it yourself, this guide will help you along the way.
Build Masonry Stem Wall: usually six to eight inches tall along the perimeter of the carport/garage. Using wood can cause mildew or termites
Framing WIth Studs: several 2×4's will need to be tightly installed to support the roof and walls.
Insulate Before Enclosing: Insulating the space between the walls will keep out the summer heat. Insulation is only required if the garage is going to be a liveable space.
Add Electrical Before Drywall: Electrical wiring should always be installed before you begin the drywall process.
Be In Compliance/Follow Code Requirements: be sure to comply with local building and fire safety regulations. Unpermitted work can lead to fines, inspections and even possibly tearing the entire structure down.
Gutter/Drainage For Roof: In most cases, the roof for the carport can serve as a rook for the garage. Add a gutter if water does not drain properly.
Finishing Touches: Painting, windows, storage shelves will not only make your new garage more convenient, but it will also add value to your home.
PGD in Phoenix and Surrounding Areas
We also offer repair and installation services for all types of doors. We are available 24/7 for commercial and residential customers. PGD is your 'one stop shop' for all your garage door needs. Call (602) 870-9848