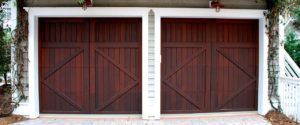 When it comes to a wood garage door selection in Phoenix, Arizona, we're the top provider for traditional and sophisticated looking wooden garage doors. The visual appeal of our wooden doors not only increases curb appeal, raises your home value, but also increases the energy efficiency of your home. With the correct insulation, wooden garage doors can reduce energy costs by decreasing how much power you need to cool or warm your home. Lower energy bills are never a bad thing, and equate to big savings over time. Certain insulated garage doors are even capable of lowering the volume of external noises.
We also offer garage door repairs. If you find you door not operating properly, please give us a call. We have licensed technicians with fully stocked trucks that provide the necessary service and repairs. We offer same-day service and great customer service:)!
Without insulation your garage can leak heat into or out of your home. This will increase how much power is needed to keep your house cool during the hot summers, especially in Phoenix, and warm during chilly winters. Whether you spend time in the garage, use it as a main entrance, or simply park your vehicles in it, choosing the right type of garage and keeping it insulated is a worthwhile investment. Wooden garage doors offer both curb appeal and true functional value.
A Variety of Styles – Wood Garage Doors Phoenix
Parker Garage Doors has been providing wood garage door sales in Phoenix for over 20 years. We have access to a massive collection of garage doors to choose from. We can also design a custom wooden garage door specific to your design needs. Perhaps, you're interested in natural wood or wood composite doors, or sectioned garage doors, panel doors, or even carriage style garage doors. Whatever your preferences are, you can be assured that we aim to meet your needs in function, style and budget . We have access to all types of paint-grade and stain-grade woods that are sure to match your vision. We even install wood composite garage door. These types of doors require little to no maintenance and offer a variety of finishes to fit any style. We pride ourselves on offering the highest quality options to make sure you get exactly what you are looking for.
Woods Garage Doors We Offer:
Mahogany
Clear cedar
Knotty cedar
Red cedar
Spanish cedar
Hemlock
Get Your Wooden Garage Door Estimate Today
Our wood doors offer a distinctive and elegantly rustic look that provides curb appeal that can't be matched by other materials. We will tailor the garage door to your personal tastes with optional custom fitted windows and any paint job or stain you desire for your wood.
Parker Garage Doors is family owned and operated and genuinely dedicated to providing the very best for our customers. Our technicians are experienced professionals. Simply choose the door of your liking and schedule and installation date and we will handle the rest.
Contact us for a free quote and the best wooden garage doors on the market.