Parker Garage Doors & More – Lake Havasu City
---
PGD has been serving Lake Havasu City residents with all of their garage door repair needs since 1998. If you are in need of residential or commercial garage door repair and service, then no need to look further. PGD will make sure you are getting the utmost in garage door repair Lake Havasu City at a transparent, affordable price. We are available and ready to attend to your broken garage door needs whenever you need us, 24/7, 365 days a year. We have fully loaded trucks and work with only the best in garage door products so you can be sure of having a perfectly working garage door. Give us a call now at (928) 216-5756 if you are in need of garage door repair in Lake Havasu City!
Emergency Garage Door Repair
AZ Top Rated Garage Door Service
We service all garage door issues, including broken springs, broken openers, damaged panels, damaged tracks, damaged rollers and more. In addition, we also as offer full garage door replacement, installations and sales. When it comes to garage doors, we cover it all. Call today for a complimentary estimate for your garage door needs.
24 Hour Emergency Service
Same Day Service Available
Family Owned & Operated
Licensed, Bonded & Insured
Factory Trained Technicians
Quality Replacement Parts Don't want to wait for an estimate? Call now to get an estimate over the phone (928) 216-5756. Don't hesitate to call, our staff is available 24 hours a day to handle any emergency garage door services.
Parker Garage Doors & More – Lake Havasu City
5 Star Rating From 5 Reviews.
We have a second home in Havasu and Parker Garage Doors went above and beyond to make things work with our schedule. Everyone was friendly & professional. I highly recommend them.
Ill just put it this way, if you manage to back your truck into your garage door because you weren't paying attention, Parker Garage Doors in Lake Havasu can have you up and running in literally an hour from when I called. I called everyone else in the area and they all told me 2-4 weeks before I could get it fixed or replaced. So unless you want to have a 3 week long wait hoping everything in your garage doesn't get stolen, I would 100 times out of 100 times call Parker. Good people, excellent work and very very professional.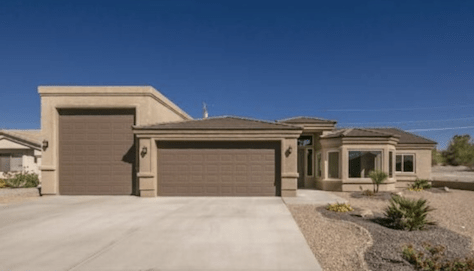 Such a great company! They were quick and professional and helped me get my door opened and working in a short amount of time! Their technician Forrest was just amazing! He was super efficient and showed me great customer service! I will recommended them to anyone I know.
Forrest just fixed our garage in about 20 minutes, replaced both springs and got working perfectly. Great service from fist phone call to end of service, very reliable and professional. I will recommend them to anyone looking for any work needed on the garage doors.
Garage Door Service & Repair – Lake Havasu City, AZ
---
Lake Havasu Residents Choose PGD For a Reason:
Available 24/7 – 365 days a year
Straightforward pricing
Licensed, bonded, and insured
Highly trained, and friendly technicians
Work with high quality products and brands
Lifetime warranties
Serving Arizona residents since 1998
24/7 Garage Door Repair Lake Havasu City
If it has a door, we most likely can fix your problem. PGD works on all types of doors, both residential and commercial garage doors. Our highly trained technicians will come out and fix your garage door while answering any of your questions so you can feel 100% confident. Whether you are having garage door problems at 2pm in the afternoon or 2am in the morning, we have our trucks ready and loaded to drive out and address your garage door repair needs. Looking to have a carport conversion completed? No problem! We Offer Valley Wide Services!
Spring Repair
Cable Repair
Track Repair
Opener Repair
Garage Door Installation
Garage Door Replacement
Carport Conversions
& More
"Experience Matter, Quality Counts"