Parker Garage Doors is your broken garage door spring replacement expert in Arizona. We replace broken torsion and extension springs on residential and commercial garage doors. We highly recommend that both springs be replaced in the same visit as this will save you money when the other one goes. Whether it is a double garage door spring replacement you are looking for or just replacing a single garage door spring, Parker doors has got you covered. Give us a call today!
Mention this Coupon and Save $20 Off your Garage Door Spring Repair or Replacement!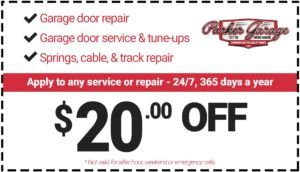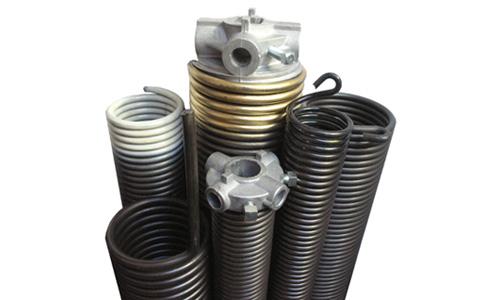 Garage Door Spring Replacement
There is nothing more synonymous to a garage door than its springs. It is the springs themselves, not the opener as many of you may have believed, that is strictly responsible for smoothly operating the garage door. Considering that some doors can weigh up-to 500lbs, it shouldn't come as any surprise that in order for the springs to effectively lift the door, they must be placed under immense tension.We highly recommend that both springs be replaced in the same visit as this will save you money rather than waiting for the other spring to break. While, your garage door springs may appear to be small, they in all actuality perform all of the heavy lifting required to efficiently raise your garage door.
We have the expertise to safely and effectively replace all types of springs – whether torsion or extension – with top-notch quality parts. We have been performing this service on residential, commercial, and industrial garage doors alike for the past 24 years.
We Offer Valley Wide Service!
It is for this reason alone that we suggest – correction, caution – that the homeowner DO NOT attempt to repair or replace their garage door's springs. Instead of taking on a project that is fraught with unnecessary risks, which can jeopardize your safety and security, contact us at 602-870-9848. There's no need to worry about the time, as we're available 24 hours a day, 7 days a week.
Garage Door Springs Have Limited Lifespans
Depending on which type of spring you garage door utilizes – torsion or extension – you can expect on replacing them at least once during your garage door's lifespan. This is because the spring's themselves have limited lifespans. A spring's lifespan is measured in cycles, with one cycle being completed once the door has finished opening, and closing one time. Most springs are projected to last 10,000 cycles.
Once your springs break, no matter the reason, their tension is released and they will be incapable of operating your door. In most situations, if you're home, you'll be able to know that they broke as they emit a loud popping noise. Again, please do not attempt to repair this situation without the help of a professional garage door repair company, such as Parker Garage Doors.
Dependent on how often you operate your door, the information below provides you with an idea of the life span of your garage door springs:
Leaving and coming two times per day = 14 years
Leaving and coming four times per day = 7 years
Leaving and coming six times per day = 5 years
Leaving and coming eight times per day = 3 years
24/7 Prompt Garage Door Spring Service
With two locations and a large team of experienced technicians, we literally serve most of Arizona, including Phoenix, Scottsdale, Paradise Valley, Cave Creek, Carefree, Surprise, Sun City, Glendale, Sun City West, Peoria, Lake Havasu, Parker. Ahwatukee, Chandler, Tempe, Mesa, Gilbert, Waddell, and More!!
Parker Garage Door's team of licensed technicians has extensive experience in replacing broken torsion and extension springs safely and effectively. All of the replacement springs we use have been manufactured from some of the industries' best materials. For commercial, or other high-use applications, we have extended use springs available.
If one or both of your springs break, you require prompt attention, so don't hesitate to call us at 602-870-9848. In most cases, we can be the same day you call, regardless of the hour. In addition to our broken spring replacement services, we also provide garage door opener service and sale, new garage doors, installation, repair and maintenance services for all makes and models of garage doors.
We have two locations, in Phoenix and Lake Havasu. We provide service all throughout the valley. Not only do we provide service, but Same Day, 24/7 Emergency Service All Year long. And the best part…..we answer our phones when you call, no matter what time of the day. Many companies claim to be 24/7, but do not really operate that way. Parker Garage Doors is a company that you can trust on. We have proudly been serving our customers for over 21 years and look forward to earning your business.