The Parker Garage Door family makes the process of selecting a new garage door easy and informative. We have a great selection, fair prices, and a sales and installation department that is second to none.
Whether you're looking to upgrade your worn out or damaged garage door, or you're building your first home from scratch, you can count on us to help you make the right decision based on your style preferences and budget requirements.
Want to hear the best part? There are no pushy salespeople here! Only people that want to help you make the most informed decision. We listen to what each of our residential customers wants and needs, and we provide free, professional advise. Contact us today for professional advice when selecting the correct door for your needs.
We Offer Valley Wide Services!
Residential Garage Door Types Phoenix, AZ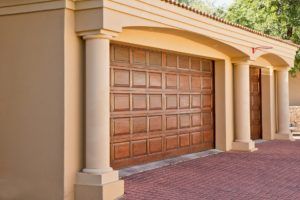 Steel Garage Doors
Popular and attractive for most budgets, residential steel garage doors provide the ultimate in protection, and energy-efficiency. These doors additionally provide long-lasting durability and can be tailored to enhance any home's architectural design. Amarr has been manufacturing residential steel garage doors since 1955, which is just one reason why we're proud to offer them to our customers. Give us a call to learn more about steel doors, or to get a free estimate.
Composite Garage Doors in Phoenix
Attractiveness at an affordable price! Made with durable steel, our line-up of residential composite garage doors, provide a great way to get the look of wood without shelling out thousands of dollars. Durable and low-maintenance these doors are also insulated for increased energy-efficiency. You can choose from a wide array of door designs including contemporary and traditional.
Residential wood garage doors have a natural beauty that is theirs' alone, however, when you pair them with any home's architectural design it is then when you'll become the envy of the neighborhood. Whether you prefer to purchase the artistic expressions that come standard, or design your own one-of-a-kind masterpiece, our residential wood garage doors are sure to provide you with instant gratification.
Ranch House Series Garage Doors
The natural look of wood, when combined with talented craftsmanship, produces a garage door that we are sure you'll love! While our residential Ranch House series garage doors are exquisite, to say the least, they are also long lasting and reliable. With these doors, you can create a design that is all your own, or choose from over eighteen existing designs.
Home Place Series Garage Doors
Old World styling + modern insulation = a one-of-a-kind garage door! Our residential Home Place series™ garage doors have all of the dependability of a steel door to provide your home with long-lasting curb appeal. You can choose from a vast array of designs, and with a variety of window and hardware options readily available, you can easily customize these doors to reflect your style to a tee.
Quiet Glide Series Garage Doors
Strength and design come together to carefully craft our residential Quiet Glide series garage doors. Shaped from steel, these doors ensure that there is no metal on metal operation, for one of the quietest steel doors on the market. With pinch-resistant panels, they additionally afford you added protection, during operation. If you're looking for understated elegance, and quietness, then this door is for you.
Dura Craft Series Garage Doors
Do you want a garage door that is eco-friendly? Then we have the door for you! Our residential Dura Craft™ garage doors offer an ideal approach for those seeking to be environmentally friendly. Best of all, you won't need to sacrifice beauty or your home's curb appeal because these doors come in broad range of designs, including carriage house.
Energy Craft Series Garage Doors
For increased thermal efficiency and exceptional beauty, look no further than at our residential Energy Craft™ series garage doors. Featuring high R-values up-to 1750 (the capacity of insulation that resists the flow of heat), these doors are available in both long and short panel designs, as well as a flush design. These doors are perfect for homes facing east or west.