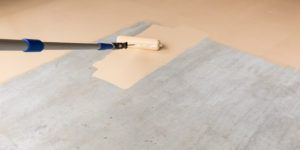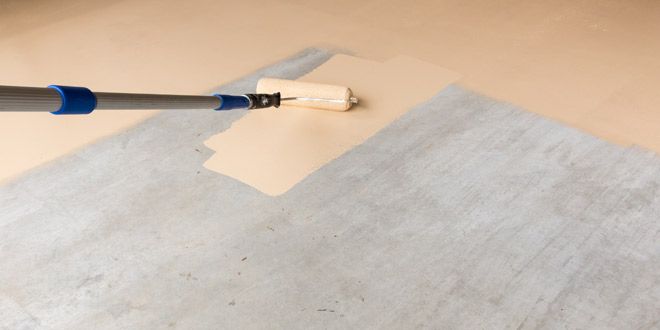 If there's one area of the garage that takes a lot of abuse it's the floor. It gets covered with oil leaks, spilled paint, tire marks, mud and dirt. A few of these leaks and fluids can leave unsightly, permanent stains on your garage floor. Sure, we may throw a piece of cardboard or kitty litter down to absorb leaks from our vehicles, but that looks just as bad as stains. If this is the state of your garage you may want to consider painting your garage floor.
Painting your garage floor has a few benefits. Number one, it's going to enhance the look of your garage ten-fold giving it a shiny, showroom floor look. Next, assuming you use the right kind of paint, the floor will be spill resistant to just about any fluid that falls on it. It also has an anti-skid effect helping you get grip on those snowy or rainy days.
If you choose to take on this task, preparation is key. It's generally recommended to add two coats to the floor, so plan on the job taking at least two days as you will need time for the first coat to dry before applying the second. You will need to clear the garage floor and tape off the bottom edges of the wall. The floor will need to be swept or even hosed completely clean to help the paint bond to it. You may need a de-greaser to get rid of stubborn oil stains. It also means your car will be parked outside of the garage for some time, so make sure it is locked and secure.
There are a few types of floor paints, but epoxy is considered the best choice. Epoxy paint consists of two liquids with one being a catalyzing agent. This means when it dries, it forms a nice solid coat which is both weather and stain resistant. The paint often comes with color chips or flakes you can add to help disguise imperfections on your concrete floor. For best results, try to apply the paint when it's between 50 and 80 degrees outside.
Once you are finished, you will be tempted to park your car on it right away but it's recommended to wait 72 hours before driving on it.