Many small residential garage door problems can be repaired on your own with a little bit of elbow grease and some knowhow—which we hope to provide you with here today—but do keep in mind that some repairs should be performed by a professional who has the experience, specialized tools, and replacement parts to fix the problem. Safety is the number one priority when it comes to repairing and garage door issue. Sp please remember this should you choose to go at a few repairs yourself.
For example, lubricating the rails is a safe and easy DIY project anyone with a few minutes and a silicone spray can handle. However, depending on the type of garage door you have, a project like spring replacement could be at best difficult and at worst potentially dangerous. Let your personal experience and comfort level guide which repairs you can do on your own and which repairs you should call the pros in for.
In this post, you'll learn about some of the following topics: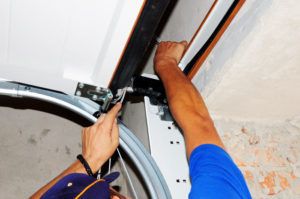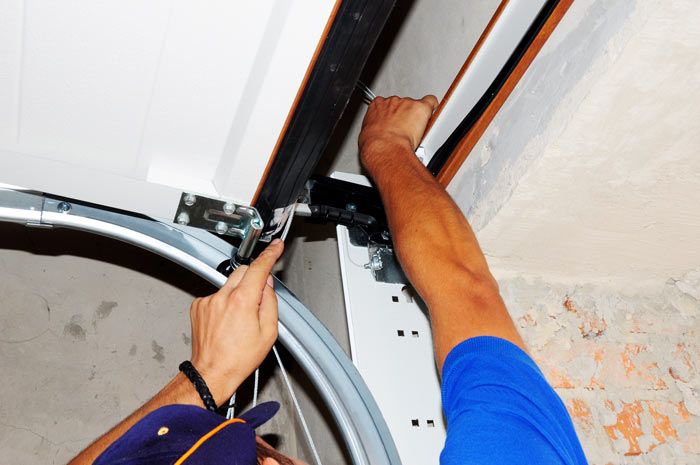 How to diagnose common garage door problems

Safety tips to avoid injury

How to inspect your garage door safely and thoroughly

DIY maintenance and home tune-ups

When to call in professional garage door repair experts
As garage door technology has improved, so has the complexity of these devices. However, it's still possible to inspect them yourself as long as you're very careful and know what to look for. Let's begin by discussing the most important safety procedure, after which we'll cover how to perform an inspection on your own.
The #1 Safety Procedure for DIY Garage Door Repair
While many garage door repair activities require further safety measures, there's one thing you should always do while repairing, maintaining, or even simply inspecting your garage door.
Can you guess what it is?
Always work with the door down.
Of course there are some situations where the door has to be up—these are often good cases to make an appointment with a residential garage door repair company like ours—but generally speaking, most activities can and should be performed with the door down. The last thing you want to happen is for the garage door to rapidly and perhaps unexpectedly crash down while you're working.
Additional Garage Door Repair Safety Tips
Before doing any work on your garage door, make sure you've safely cleared out children, pets, and basically anyone else who might get in the way. This is especially important if you're working on the sensors for an automatic garage door, because they prevent the garage door from closing completely if something passes through them (like a car, but also a dog or small child).
Since it is likely that you'll be working on an automatic garage door, it's also a good practice to disable the opener while you perform repairs or maintenance. This will require cutting off power to the opener, the process for which varies depending on your garage door setup. Sometimes it's as simple as unplugging the opener, but you may need to shut it off in your home's fuse box. Either way, do it—this will prevent accidental opening/closing of the garage door.
Finally, here's a tip that's not necessarily about safety, but you'll be glad to know it anyway: always work on your garage door with your cars parked outside! Just in case something goes wrong and the garage door is stuck in the down position, you'll have access to your vehicles until you can get a professional service technician to come over.
How to Perform a Home Garage Door Inspection
Discovering problems before they become major repair issues can save you both time and money, so regularly performing a garage door inspection is a good idea for any homeowner. Assuming everything appears to be in good working order and you aren't having any problems, a good inspection schedule would be bi-monthly or at the most once every 90 days.
Inspecting your garage door on your own is a fairly simple task if you know what to look for. Begin by standing in your garage—remember, anytime you're inspecting or maintaining the garage door, the door should be in the down position—and carefully look at the following components:
Springs

Cables

Pulleys

Hinges

Sensors

Rollers (the "wheels")

The door itself
Visually inspect each part. What you mostly want to look for will be signs of damage or visible wear. Cables are a common culprit for garage door problems, but can usually be spotted when they start to fray. Check for hardware that may be coming loose and needs to be tightened down. Look at the sensors and make sure that they're properly aligned. The springs shouldn't "wobble" and should remain snugly in place.
If you see damage or wear, take down notes about parts that may need to be repaired or replaced. Decide which problems you think you can fix yourself and which problems may require professional assistance. If you are in need of professional garage door service, call Parker Garage Doors at 602-970-9848.
While standing in the garage safely away from the garage door, open and close it. Since most of the time you're probably opening and closing the garage door from inside your car, this will give you the opportunity to pay special attention while viewing and listening to its operation.
Look for anything that catches, halts, or grinds. View the springs to ensure that they're attached properly and stretch out symmetrically. Listen for any unnatural sounds (you'll know it if you hear them). Squeaking, grinding, and so on can indicate problems.
Twice yearly, a small amount of lubrication should be sprayed into the garage door tracks, hinges, and rollers. It's not uncommon for homeowners to forget this (often for years at a time). If the garage door seems to be struggling to move properly or you hear some of the aforementioned noises, the door may just need to be lubricated. A silicone spray is usually a fine choice.
After lubrication, perform the same test where you stand and observe the garage door. If the noises are gone, you solved the problem with lubricant—if they persist and you can't find any visual evidence, you may need to call a professional to diagnose the issue.
How to Test Your Garage Door Sensors
If your automatic garage door was installed after 1993, it almost certainly has a pair of sensors designed to activate the reversal mechanism. After this time, that was the law. If something activates the sensor while the garage door is going down, the garage door should automatically reverse. This prevents people and adults from getting accidentally injured.
The sensors work by casting an infrared beam between one another. If the beam is disturbed (e.g., someone walks through it) the reversal mechanism is activated and the garage door returns to the open position.
As part of your inspection, the sensors should be tested. It's important! If they aren't working, it would be quite difficult to know until it was too late and someone got hurt.
This is one of the few cases where you need to work on your garage door with the door in the open position. Stand near the garage door (not underneath it). Hold a long object you can use to test the sensors—you'll be using it to break the beam between the sensors.
Use the remote or have someone help you by pressing the wall button to close the garage. As the garage door is closing, put the object between the sensors. The door should immediately go back up. If this happens, your sensors are working properly.
However, if the garage door continues to go down even though it appeared as if you disturbed the beam, it means that your sensors aren't working. Assuming a visual inspection doesn't present any obvious damage to the sensors, it may be that they simply need to be cleaned. With the garage door closed, use a dry cloth to wipe down the sensors and remove dust or debris.
Examine the sensors and to the best of your ability ensure that they're both aligned to face each other. Note that when sensors are working properly their alignment doesn't have to be perfect, in almost all cases "eyeballing it" will be good enough. If they look aligned, they probably are.
Repeat the test with the broom handle. If the problem was resolved and the door reverses when you interrupt the beam, odds are the sensors were out of alignment or dirty. If the garage door still comes to a complete close, you should have your sensors replaced immediately.
How to Know When to Call a Garage Door Repair Professional
Knowing how to do basic inspections and minor repair work are both excellent skills for any homeowner to have. However, in some cases over the lifespan of your garage door, you'll almost certainly need to call a professional garage repair technician. Maybe it's for a problem you just can't track down or for a specific part you can't replace by simply going to the hardware store.
Whatever the situation may be, the staff at Parker Garage Doors would be pleased to diagnose and repair your garage door. Is it time for an upgrade? We've got you covered there too. We offer a large selection of new garage doors to choose from.  Please feel free to call us at (602) 870-9848.