If you are looking to add some flare to your home for the holidays, refinishing your garage door might be the perfect decision!
If you have a wooden garage door, routine care will keep it looking great! Since your garage will experience a lot of sliding up and down, natural wear and tear is bound to occur. This movement can add stress to your garage door, which can eventually cause cracks or gaps in the finish coat.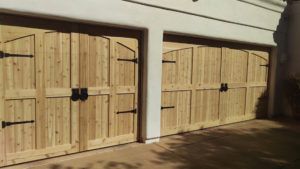 Using a durable weather-resistant finish will protect your wood. You can take it two different directions: Fill finishes, (a varnish or paint); or penetrating finishes, (Oils and stains). Unlike some of the rooms inside your home that are hard to reach or paint, a simple stepping stool is all you need to reach the corners of your garage.
Make sure, before painting, that you clean and prep your garage door properly. Getting rid of any mold or mildew, and dust and debris will allow the finish to go on smoother and last longer. This is a very time consuming step, but it truly makes a huge difference in the final product. Leave an adequate amount of drying time for your garage, so everything can set well!
Make sure you get all of your garage door repairs done, and even your garage door replacements before the holidays. It is the perfect time to doll up your home for any guests who are coming to town. We can assist you in any of your garage door issues, and we can provide you with garage door solutions!
For more information, call us at (602) 870-9848.