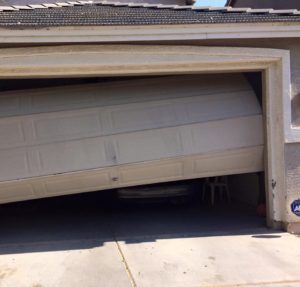 It's Monday morning. You're exhausted from a long weekend. Everything is falling apart. Kids don't want to go to school, you spill coffee on your shirt, you burn the toast, and now you're late for work. You run to your car in the garage, throw it in reverse and then WHAM, you back straight into your garage door because you forgot to open it. It's embarrassing but believe us, it happens a lot.
So now what? Well, the first thing you should do is contact Parker Doors for fast and reliable garage door repair service.
But then the questions start. You have a damaged garage and a damaged car. Is insurance going to cover any of this? Do you contact your homeowner's insurance agent or your car insurance agent? More than likely, the answer is both.
Generally speaking, car insurance only covers your car against loss whether it's from an accident, a telephone pole falls on your car, or some dirtbag steals your car. Some auto insurance policies do include property damage coverage, but that only comes into play when it's somebody else's property as your own personal property is normally excluded. So if the above scenario happens at a friend's house, then your car insurance could possibly provide coverage for the garage damage, but repairing your friendship is all your responsibility.
If your garage is attached to your home it's considered part of the structure and therefore is usually covered by homeowners insurance
Let's assume it's your own garage. If your garage is attached to your home it's considered part of the structure and therefore it's usually covered by homeowners insurance. The tricky part is whether or not the insurance company considers the damage a result of your own negligence. Perhaps you hit the garage door opener button as you do every morning, but for some reason, this morning the garage failed to open. Maybe a cat ran in as you were opening the garage and tripped the auto-reverse sensor. Or maybe it was just all your fault.
Your best bet when something like this occurs is to call a garage repair professional immediately so they can assess and diagnose the situation. It's possible repairing your garage door may cost less than your deductible so there would be no need for an insurance claim. It's also possible their report can help you prove the accident wasn't your fault.
Ultimately it all depends on your insurance policies. It's good idea to review your policy with your insurance agents so they can advise what is covered and what isn't.
Have a question? Contact Parker Doors – family owned and operated since 1998!