Your garage door & garage door opening system are meant to open and close smoothly with little to no noise. However, normal wear and tear & other factors like loose or broken garage door parts can seem to all of a sudden make your garage door noisy! Maybe it's just a slight banging you hear when you go to open your garage door or perhaps it has started to squeak whenever the door is operated at all. No matter the sound, not only is a noisy garage door annoying it can also mean it may be in need of lubrication or repairs.
If your garage door is loud when opening & closing it could be time to upgrade your garage door insulation!
There are many reasons your garage door may be noisy, from improper maintenance to normal wear & tear, a bent track,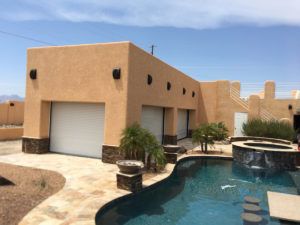 becoming off-balance, or a loose part (rollers, nuts, chains, hinges, springs, etc.). The key is to listen to the type of noise being emitted and to take note of when the noise is happening during the open/close cycle. If you hear a banging noise it could mean that your door is off track or you may be in need of garage door panel replacement. A rattling noise usually means there are loose nuts or bolts or the opener support rails or chains could be loose. A scraping noise could indicate an unbalanced garage door which can be extremely dangerous. Clinking can indicate rust build-up causing garage door springs to rub together! And a popping noise usually signals a torsion spring has snapped and you should call a garage door repair service immediately. Any type of broken/snapped garage door spring or unbalanced door should be looked at and repaired by an experienced garage door expert as soon as possible.
Causes of A Noisy Garage Door
Improper Maintenance
Normal Wear & Tear
Bent Tracks
Loose Parts – rollers, nuts, chains, springs
Door Is Off-Balance
Opener Needs Repair/Replacement
Hinges/Rollers Need Lubrication
The Importance of Garage Door Maintenance
Garage doors are subject to the different weather elements, everyday use, and here in Arizona the extreme heat during the summer months. These things all collectively work together and wear on the many parts that compromise your garage door. That being said to ensure that your garage door is in proper working order & is performing as efficiently as possible it is important to schedule regular garage door maintenance with a trusted garage door company. Regular garage door maintenance helps to ensure that any repairs needed are spotted sooner rather than later which can help prevent serious injury or accidents as well as costly garage door repairs or replacement. Maintenance also helps to ensure that your garage door tracks are free of dirt & debris which can hinder movement & create a noisy garage door!
Lubricating Your Garage Door
Remember when your garage door starts making noise it's trying to tell your something. If a little lubrication is needed it is important to add it anywhere needed as soon as possible.
Garage door parts that are rubbing together causing friction & heat, are bound to break completely, causing a dangerous more costly issue. This is also why it is important to lubricate your garage door and its moving metal parts regularly and not just in times of distress.
While it is always advised to work with a reputable garage door repair company, should you look to lubricate your garage door parts yourself we highly suggest that the garage door is disconnected from any power source before beginning. And while WD-40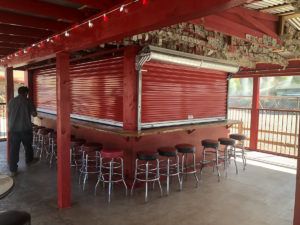 may be used to help lubricate parts we suggest using lithium grease. Lithium grease will not cause dirt build-up over time like WD-40. Should you find a lot of dirt build-up, a little bit of brake cleaner goes a long way to help remove built-up grime.
In the end, your garage door is responsible for much of the heavy lifting in life (literally) and should be taken care of and maintained to ensure the safety of people and personal property. And proper garage door maintenance & lubrication can help to extend the overall lifespan of your door while also ensuring it is always in proper working order.